Let's get to the needy greedy. The facts, the medical term for "Diabetes during Pregnancy," is GESTATIONAL DIABETES.
THE RISK FACTORS ARE:
*You are overweight before getting pregnant
*Hispanic, African American, Native Indian populations are the most at risk (Because of our faulty eating habits)
*Have prediabetes. (Blood sugar levels higher than average)
*Have family members with diabetes
*Have high blood pressure or other medical complications
*Have given birth to a large baby
*Have given birth to a baby who was stillborn or har certain birth defects
*Are older than 25
Gestational Diabetes would happen (if it will) during the second half of the pregnancy (after 4 months) YOUR DOCTOR AND YOU SHOULD CHECK for symptoms and if you are already at risk.
THE TREATMENT IS SIMPLE: (TAKE A WILD GUESS WHAT IT IS)
*Healthy diet
*Exercise
*You will be advised to check your blood sugar four times a day.
AYURVEDA LIFESTYLE
WHAT IS AYURVEDA?
Ayurveda is "the science of life" is a science that teaches us how to be in sync with our lifestyle choices of food, sleep, emotions, etc. and how they affect our health.
Through this science, you can learn how your body type is ruled by the elements of earth, water, fire, air, and space.
This science is all about teaching you balance. Balance for everything, food choices, thoughts, ETC.
When I started practicing Yoga, I didn't know what Ayurveda was.
I have the experience that little by little, I was beginning to make better choices about everything in my life when I started teaching and went to my first Ayurveda training I realized I was already in the path of Ayurveda.
If you have been practicing Yoga for a while you know what I mean, If you haven't started yet, my suggestion is to start now, give your body and life the gift of yoga practice, start like everybody else, once a week, then in a few weeks, months, years, you will see where you are.
LOS PRINCIPIOS DE AYURVEDA (MEDICINA NATURISTA, EN MEXICO SE CONOCE COMO TROFOLOGIA)
La mente y el cuerpo estan conectados NADA tiene mayor poder que LA MENTE Y LA CALIDAD DE TUS PENSAMIENTOS.
Comienza a poner atención de cómo te sientes FISICA Y MENTALMENTE
ANTES Y DESPUES de cualquier actividad, cómo te sientes ANTES Y DESPUES DE COMER
COMO COMENZAR UNA DIETA SALUDBLE CON LOS PRINCIPIOS DE AYURVEDA:
La naturaleza, tierra, agua, Fuego, aire, espacio tiene no solo formats matemáticas y geométricas, también tiene sabores y colores.
INCLUYE EN TU DIETA comidas naturales, que incluyan todos los colored y todos los sabores, NO tienes que comer todos los sabores en una comida sino todos los sabores durante el día, ésto ayuda a sentirnos satisfechos pro más tiempo.
RECORDATORIO: Limíta tu consume de grass, azúcar y harinas.
Cultiva habitos alimenticios que te ayuden emocionalmente a digerir la comida:
*No veas tele, no veas tele, no tengas el teléfono distryéndote.
*Come con tranquilidad y NUNCA comas cuando estés de mal humor.
*Come solamente cuando tengas hambre, estar aburrido NO ES tener hambre.
*Desayuna temprano, la última comida de el día debe ser a una hora moderada, come despacio.
*Los vegetables crudos son un poco más difíciles de digerir.
*Toma agua caliente con gengibre durante el día. (ayúda a la digestión
TU CUERPO SE REGENERA UNICAMENTE DURANTE LAS HORAS DE SUEÑO.
*La major hora para it a dormir es 9:30 P.M. (Tu cuerpo comienza el trabajo de regeneración a las 10 P.M. sólo si estás dormido)
*Es más saludable dormir de 10 pm a 4 am que de la media noche a 7 am.
*La falta de dormir Baja las defensas de el sistema inmunológico.
*La falta de dormir nos avejenta.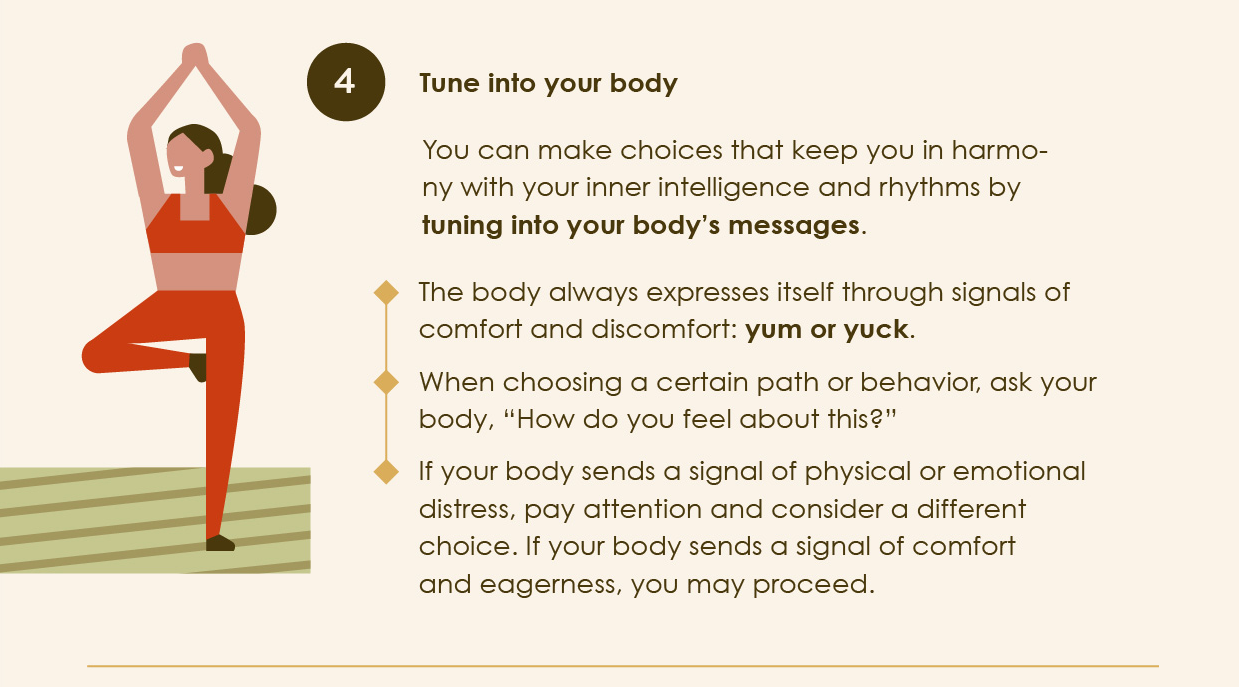 ESCUCHA A TU CUERPO.
*Tu puedes saber si la eleccción que estás haciendo sobre tu alimantación y vida es la correcta solo con escuchar tu cuerpo.
*El cuerpo siempre te dice lo que es sabio y lo que no.
*Si la concecuencia de lo que comes es malestar, dolor etc. Tu cuerpo te está diciendo NO.
*Acostúmbrate a preguntárle a tu cuerpo: ¿COMO ME HACE SENTIR ESTA ELECCION?
*Al despertar, lávate la cara con agua fresca, limpiate la lengua, y toma agua tibia con jugo de limón.
*Cúrcuma (se puede ingerir en tés o comida) ayuda a la desinflamación.
*Cultiva el hábito de la meditación de mañana y noche.
*Las mejores horas para ejercitarse son entre 6 a 10 A.M. y 4 a 6 P.M. SIEMPRE ES BUENO EJERCITARSE, ESTAS SON LAS HORAS DE AYURVEDA.
*Sal a caminar al parque o fuera de la ciudad lo más que puedas.
*Comienza un diario, cultiva el hábito de la gratitud.
Sigue concentrándote en tí
Keep concentrating on you, Do not hesitate.